Zedlam: Formerly Scandere / Kula Software's Voluntary Donations

I have been making programs distributed on the Internet for free for over 23 years now. While most of those programs also have had registered-only paid versions, most by orders of (powers of, factors of) 10, they were used but never paid for, and usually they never had to be. I only became successful at writing software initially due to an accidental bug in an early version of ZR FileWorks which caused it to eventually stop working, and even reinstalling the program would not make it work again.

I got orders of hundreds, and emails from dozens of people saying, "well I guess I need to pay for it now. Great program, BTW." What I mean by saying this now is that my programs have never been particularly difficult to steal or to keep using for free for anyone with little to no computer knowledge. That is why I have always been particularly grateful to those who did register one, knowing many of them did not have to. They just wanted to help me out for making a particular program.

I have a number of completely free programs in the works as well as non-time limited shareware games. I am even developing smaller versions of the new 2014 Cubix / Smash games which people should be able to play completely free online right off off any web page, and most likely they will be hosted here. But I may pass those pages along too to whoever might wish to host them.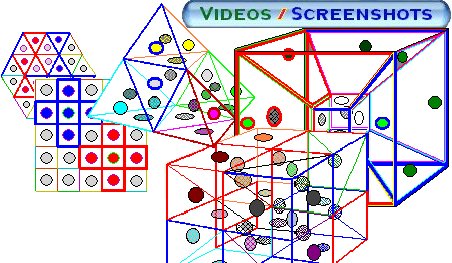 I never thought of the games primarily as a way to make money and relatively speaking, they have not made back the time and effort to make them (yet) financially speaking. These latest versions (the 2014 versions) took probably literally thousands of hours over many years (over 6 years) to make. No real way to get those hours back.

But once on AOL, I came across a chat room of people playing the original "Cubix" game many years ago. I had an early primitive version of the "type in moves" feature found in the newer 2014 versions and I was surprised to see that people were playing it online. It really sucks that I was not able to make this new version a completely play-online version as planned (using Winsock and IP numbers, I just ran out of time, and had to cut that feature at the last minute). But if enough people register these new non-Internet integrated versions or instead donate something at the bottom of this page though no one really has too, I may be able to add the online play options back into these great games (check out the videos if you think I am making it up that they really are great games) or to finish the web versions to let people play levels online for free.

I think those who played the original "Cubix" or "The Wall" or "Tetrix" games (2 out of 3 of them can be "spotted" in the picture above) of even just a single level and basically only one game on it, they were a little bit smarter or had a few more brain synapses working a little bit better for having played it, at least if they got good at it. Because when they looked at the levels, they did not just see lines and squares and cubes (or triangles, the triangular levels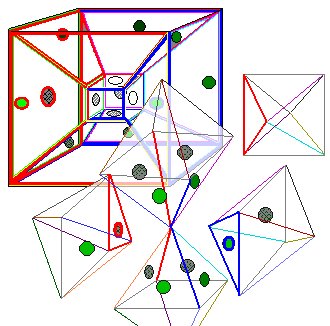 were always cool). They saw 3 dimensional patterns of moves, strategies, and ways to beat the computer, or to beat others, in those visual 3D patterns.

The early games were, and these new ones are, not difficult games to play, but you need to think a bit harder and try see and understand the patterns, even in 2D, to do well at it. And it is a hell of lot harder to see immediately or quickly the patterns, strategies, or ways, to win in the 4D levels. The 3D levels still are probably for most, just about difficult enough without having to strain the brain too much to understand them. But the more difficult and the easier levels are also there in some fashion in most other versions as well. The patterns, the moves, the strategies, they are there to be seen. And those people who get good at playing these games, in addition to having a little fun hopefully, they need to make their brains work a bit harder to master them, and that may help them out later to think a little bit better, or to see and understand the patterns all around us a little bit more easily.

That, or at least thinking that, is why I continued to make and improve the games long past when I got any money from making them. And maybe why I still might even continue to do so, as much as I am financially able to, even if no one pays for these new games. As I told my sister just a few days ago about the long hours I put in making them without knowing if I would even be able to just finish making them, if someone pays for them it will have been worth it. For the reasons I just stated above, I said even if no one pays for them and I just get to finally release them so that people can play them, I said I still think it would have been to worth it (though I am still hoping some people will pay for ones).

If not, for those who think even $10 is overpriced but that the games are nice, or maybe just don't have the money to buy one now, or perhaps don't have a Windows computer to play them on, but would like the other better planned versions to be released sooner (or possibly ever, things are precarious for me right now), they now too can help out a little if they wish via a PayPal donate button below. Mahalo for those who do or might. Keep getting smarter or better, or at least never stop trying to get a little bit smarter, or a little bit better.


Help for the new games is here.


You can donate something to help me by using the Paypal button below. And many thanks to you if you do or did. The yet-to-be-made versions are always to me the best even though they technically don't exist (yet). Much appreciation for those who helped me or will, to make them exist, in the past or hopefully, still in the future.